The world of fashion has gone through many evolutions. From the all-wrapped up ladies and gents of the medieval era to the shorter styles of clothing of today's generation—fashion speaks for the history it belongs to. And today, Asians are becoming a part of this history. They are not only emerging in music and sports, but also fashion. And the style that Asians has is very true and original to its roots.
Koreans, Indians, and Japanese fashion are evidently blotting history on the map of fashion. The Western world and their neighboring Asian countries are discovering the fashion empires of these countries through their movies, music, and famous celebrities. They leave observers curious of the fashion and the need to try on to the new styles that they are showing.
Seoul, Korea is a a shopping destination for tourists and locals alike. Korean pop stars dominating international music charts are seen in their own fashion and the world is getting curious leaving most Westerners thinking, "Their clothes are fabulous!" And that leads the fashion air to Korea. The new generation Korean fashion is different to the traditional in so many ways. Their fashion is noticeably opposite to their traditional clothing and fashion watchers are thinking that they might be scared to mix and match with their contemporary and classic fashion.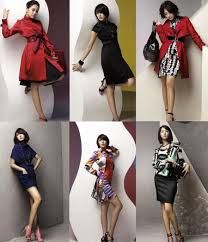 Bollywood is slowly getting noticed by the world. Indians may not be so big in music but their movies are showing the world what Indian fashion is all about. Unlike Korean fashion, Indians are more of risk-takers in terms of fashion. But the risks are all worth it. Their current fashion mirrors what Indians have been wearing in the past which really shows the beauty and colors of their history from before to the present.
Japan has been in the map for long already—longer than the two countries mentioned above. Japanese movies and music have been in the map since before and people have seen this fashion family grow. "Style is eternal," as Coco Chanel says and this is what Japanese fashion is showing the world. They are like the Indians who are mixing contemporary and classic—-history and the modern times. The beauty of Japanese watchers can notice is finding the beauty of fashion without showing off too much. Japanese fashion is a perfect mix of the conservatism of its history to the dynamics of the modern fashion world.