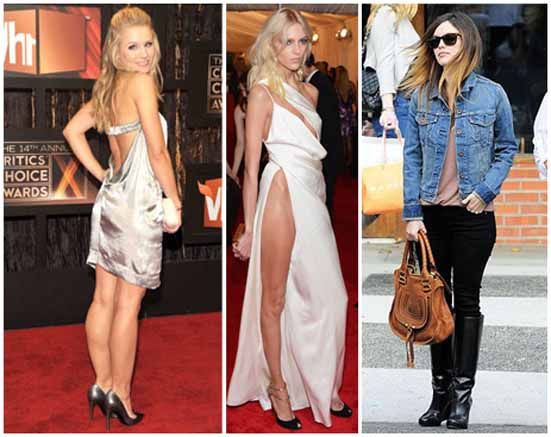 They are the first ones to steal trends straight from the run way. That's why we look to them for next seasons fashions. The following article lists some of the top A-list fashion icons. Keep your eye on them and be inspired. They have a passion for fashion so why not look to them for some fashion advice.
Mark Kate and Ashley
These two girls are better known as the Olsen twins. They are all grown up and have definitely earned their title as style icons. Unique and bold is what they aim for and they pull it off every time. They go for bohemian chic; it's professional but relaxed at the same time. They are icons because their style is adaptable for every day fashionistas. Its fashion that is comfortable, a dream come true! Go for loose fit clothing and accessorises to enhance the feminine chic style. These girls are always snapped wearing designer clothes; Givenchy, Rick Owens, Valli and so many more are the designers they seem to favour.
Model Moss
Kate Moss is best known for her supermodel good looks, it's no surprise that she has been titled a style icon. She may be ageing but there seems to be known signs of this wonder woman slowing down. She has interests in beauty and fashion. She has adopted a vintage chic look. This look makes her stand out from the crowd. However she seems to pull off any look with her rocker chick attitude. Skinny jeans are her staple, paired with leather boots and fur coats and gorgeous accessories. She's all about simplicity, going with neutral colours for clothes and adding bold accessories. Steal her look with a pair of Dr Denim jeans, t-shirt and your favourite bold piece.
Classic Chloe
Chloe Sevigny is the alternative chick. She always pulls off different and looks fabulous. This confidence to experiment is what makes her a style icon. She goes for classic vintage which fits her perfectly. She knows her shape and how to compliment it. She loves to show off her legs, bare legs seem to be the key to her looks. Her looks are great to look at for inspiration, so unique! She's a designer aficionado. In her wardrobe you will find Valentino, Cloe, Proenza Schouler and so many more. Talk about a dream wardrobe.
If you have a favourite celebrity then perhaps you should look to them for some outfit ideas. You may not be able to afford buying the exact label but you should be able to find something similar. Icons should be used for inspiration not for copying. This will insure that you put your own spin on the look.
Author Bio
Jasmine is a self-confessed fashion lover and an active blogger amongst the online fashion community.